Be Present in the MOMENT
CEO Guest Speakers
---
First Day of Collaboration and Team Building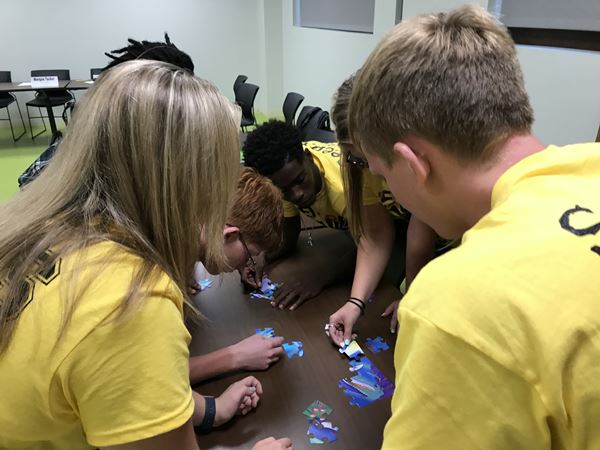 The Six Mile Regional Library hosted CEO on our first day and students were casually dressed for their senior sunrise morning. The Training and Events Room on the lower level is the location for CEO class. Students were excited to connect and work together building two puzzles. Each puzzle piece represents a part of CEO and students will be connecting the pieces all year. The expectations were discussed and questions were answered.  Students received a spiral bound notebook to accumulate their collection of notes from guest speakers and business visits.  
---
Granite City Business Foundry Meeting
Dawn Mushill, Executive Director Chamber of Commerce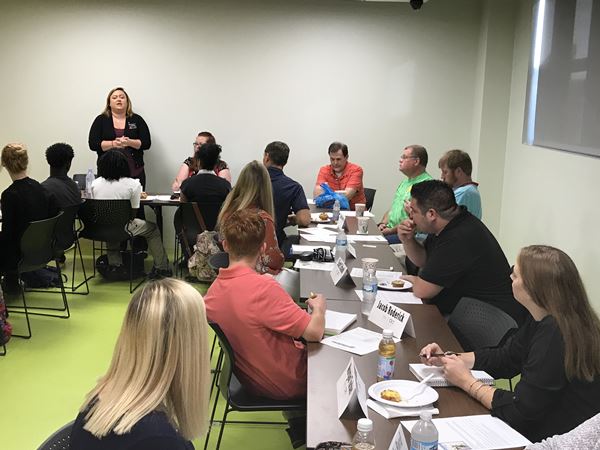 CEO students were privileged to attend and participate in the Granite City Business Foundry meeting led by Dr. Laura Shipley. Keynote speaker Dawn Mushill talked about being an owner of the CEO program and not a renter. She encouraged students to be present in the moment, create the "wow" and always present a positive attitude. It's a choice every day to exude positivity. Dawn is the Executive Director of the Chamber of Commerce of Troy, Maryville, St. Jacob and Marine and she was excited to speak with CEO students. She told them about the summer internship opportunities for college students at the chamber. 
After the mission statement was read, events on the community calendar were highlighted. Each business professional pitched for 30 seconds. Each CEO student stood and pitched themselves also. It was an awesome experience for our second day of CEO.
---
Joining the CEO Google Classroom
Our Six Mile Library provided laptops for students to use. Students joined the Google Classroom for CEO and will use this technology for writing their weekly reflections. We appreciate the accomodations at the Six Mile Regional Libary and their staff.  
---
---
Student Journal Highlights for this week
On Wednesday, the CEO program initiated us with a quick syllabus, awesome name tags, and some helpful icebreakers. I got a chance to interact with some fellow unknown peers as well as some old friends. Mrs. Greenwald did an amazing job speaking with us and helping us understand subjects in which we did not understand to the fullest. We received our CEO notebook journals and prepared to head back to class. Thursday, the 17th, was a pretty nerve wracking day for me to meet and speak with some very important CEO's and business owners. I was the first new CEO representative to speak in a large circle of grown adults who already had their lives together. I told them I was not sure what I wanted to do yet but I know that they have faith in me to accomplish big things and I know that I can accomplish big things in this program. Friday morning, Mrs.Greenwald helped us get set up into the CEO website as well as Google classroom. We had senior meetings so we had to cut class short, but we still kept busy the entire time and I reviewed the notes that I took in my journal and I learned that everything you do as a person, and your car reflects CEO, get rid of negative people for a positive life, and in the words of Dawn Mushill "It's gonna be a great day!"

Morgan Tucker
Monday, August 21, 2017Learn More About Morgan
On the first day of class, we went over the rules and expectations. We also went over things we are going to do in the future. CEO seems like a really cool class. It seems like a good opportunity to start my own business and learn how to make it successful. I do not know exactly what kind of business I want to start, but I will get ideas as we visit some businesses and meet business owners. We learned that a strong handshake and eye contact is key to making a good first impression. I think being in the CEO program will make me a stronger, more confident person and I will not be afraid to speak in front of others. I also think this program will help me be a successful person in the future. On the second day of class, we had a meeting with the Granite City Business Foundry. There were multiple business owners that attended the meeting. We got breakfast and met some of the business owners. Then, we had Dawn Mushill from the chamber of commerce talk to us on how to be successful. She gave us many tips on how to become successful and what she does as a business woman. She said she cuts negativity out of her life. She told us you will know who will be a good employee based on their interview and to hire good attitudes. Dawn said always be early and do not hire or allow your employees to be late. "Be present in the moment" was a good statement she said. We introduced ourselves after she spoke and everyone gave a thirty second summary about themselves and their business. I learned a lot about different businesses in Granite City that I did not know about before the meeting. We then mingled with the business owners and got business cards from them. I asked the owners questions about their businesses and learned a lot. I was very impressed with the business owners and the different kinds of businesses there were. I met a lady and asked her what she does when she has a downfall, she said she actually had one the previous day. She said she lost two customers and that was huge for her because they were big customers. She said when things like that happens, she just hopes and prays something good will happen. She said today she got a new customer and they will be very beneficial. I met a lady that takes care of bees. She told me how she takes care of them and what her workers do for her to help with the bees. She said with just selling honey last year, she was able to make a few big upgrades in her house. That was really cool because she made a lot of money off of honey. She was very passionate about her business and asked if I would come out sometime to help her out. On Friday, the third day of class, we only had about forty minutes of class. We set up our gmail accounts and got into the CEO google classroom. Mrs. Greenwald also told us we did really good on Thursday and the business people were very impressed.

Ashlynn Merz
Monday, August 21, 2017Learn More About Ashlynn
---