Our First Host Business and Business Visit
---
Learning about Each Other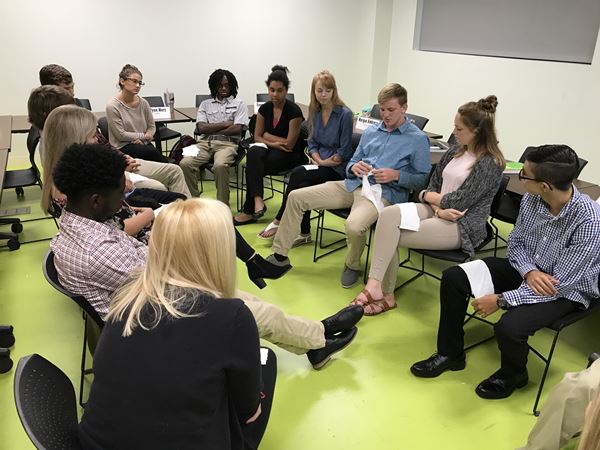 Students spent the morning sharing information about themselves based on the number of squares they tore off the roll of toilet paper. It was a fun experience and students became closer. 
---
Six Mile Regional Library, Our First Host Business
Tina Hubert, Executive Director Six Mile Regional Library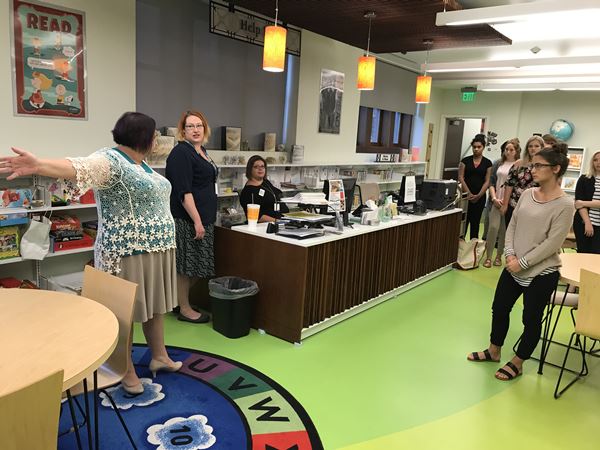 Tina Hubert, Executive Director of Six Mile Regional Library, met with CEO students on Tuesday and gave a brief history of the library. Tina talked about the $4.1 million renovation in 2013 - 2014 and how it was funded. She led students on a tour, talked about each room and all of the services offered at the library. Students met Kate Kite, Research and Instruction Librarian/Teen Services, and a member of our CEO Board. Students got a behind the scenes look at the book drop and were given a newsletter with all the events and classes offered for children, teens and adults in the fall.
CEO students appreciate our Six Mile Regional Library for hosting CEO and supporting us in many ways. 
---
Legal Business Structures - from Simple to Complex
Jeff Smith, CFO, icon Mechanical & Engineering LLC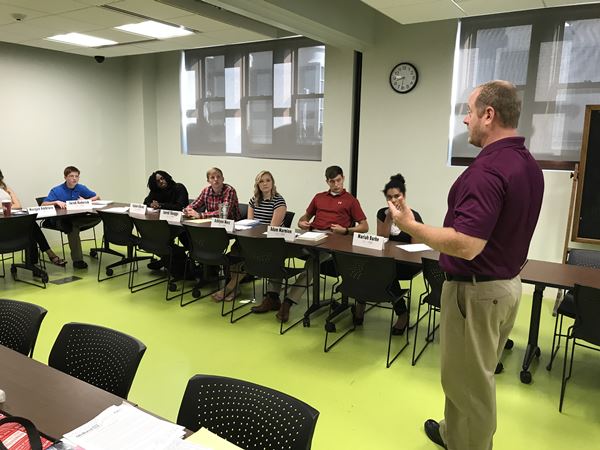 Businesses can be structured legally from a simple sole proprietorship to a complex corporation according to our speaker and CEO Board Treasurer Jeff Smith, CFO of icon Mechanical and Engineering LLC. Jeff's presentation detailed all the specifics for each legal business type and the advantages and disadvantages of each. Jeff spoke about sole proprietorships, partnerships, limited liability companies, and corporations. He talked about the legal and tax implications and the necessary federal and state requirements when hiring your first employee. Students asked insightful questions and were happy to meet one of our CEO board members. 
Thank you, Jeff, for spending your morning with CEO students and icon Mechanical & Engineering for investing in our young adults. 
---
Find Your Vision and Your Path
Stephanie's Spiritual Therapy & Gifts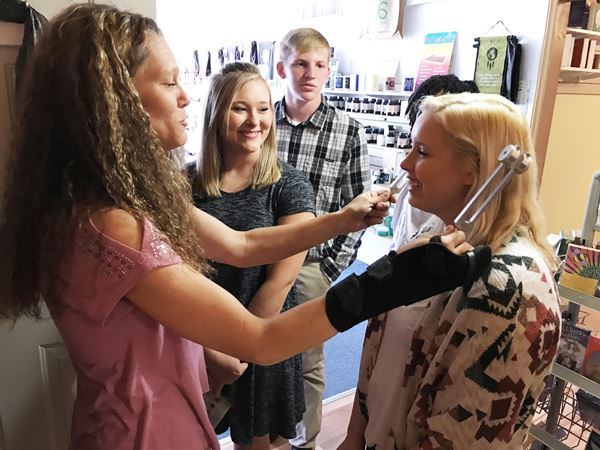 The CEO class had their first business visit on Thursday to Stephanie's Spiritual Therapy & Gifts. Stephanie Bethel is the owner and has been in business for three years and believes in natural healing. Stephanie sells many products such as essential oils, soaps, candles, rocks plus other items and offers many services including foot detox, tuning forks, card readings, ear candling, quantum magnetic analyzer, vibration trainer and group meditation classes. Stephanie shared her tips on how to conduct oneself in life, not just in business. Students listened to their card readings and enjoyed some of the other services. 
CEO students appreciate Stephanie sharing her morning with CEO for our first of many business visits. 
---
Observe, Record and Review
Juliette Douglas, Deputy Director Six Mile Regional Library
Six Mile Regional Library Deputy Director Juliette Douglas talked to CEO students on Friday about proper note taking. Observe, record and review are the steps for proper note taking. She stressed the importance of keeping organized and asked students to research different techniques for note taking. She grouped students and then they presented the different techniques of note taking and the importance of each. 
Thank you, Juliette Douglas, for your expertise. Next time you speak to CEO, we will get a photo.
---
---
Student Journal Highlights for this week
On Tuesday August 22, Tina Hubert spoke with our CEO class. We read a biography about her and learned some cool things about her life. She told us about the library and some of the neat things about it. Tina took us on a tour of the library and explained what each room was and what was done in it. She also told us about the changes made to the library in the past years. We met some of the other workers around the library as well. It was cool meeting Tina and learning about the history of our Six Mile Regional Library. On Wednesday August 23, we were able to meet the CFO, Chief Financial Officer, of icon Mechanical. We also learned some great things about him as well. Jeff Smith told us that it really isn't about the money, as long as you're doing something you love. This stuck in my head because so many people base their occupations on how much money they make, and I don't want to focus on money. I care about my happiness and whats going to bring positivity to my life in the future. He told us that you should always have a good relationship with your employees but discipline them when it's needed, which I believe is a very important role in being a boss. He taught us about getting small businesses started and gave us great information and advice on it. Meeting Jeff Smith was an honor and I'm lucky I got such good information to lead me in a good direction for a new business. Thursday August 24, CEO got the pleasure of going to Stephanie's Spiritual Therapy and seeing all the cool and exciting things Stephanie's offer. This business visit really stood out to me. I absolutely love what Stephanie does. She made me feel as if it was completely okay if I didn't know what I wanted to do yet. She told us that ideas and dreams change but no matter what, we'll end up finding our passion. She took us through an Aroma Freedom Technique and had us write down what goal was important to us and what was stopping us from reaching it. After smelling the oils we were supposed to feel like we were even closer to reaching that goal. Stephanie made me feel that sooner than later I will be able to find my passion and pursue it. Lastly, on Friday August 25, we met Juliette Douglas. She went over the very important roles in note taking. She taught us about ORR, Observation, recording, and review. These steps will help us takes notes better. We got into groups and each explained an important aspect of taking notes. After doing all of this I really feel like I can take notes a lot more effectively. I enjoyed meeting Juliette Douglas and I'm very pleased with the experience I had and the information I was given.

Gabrielle Byrd
Sunday, August 27, 2017Learn More About Gabrielle
---