Taking It All In
CEO Business Visits
CEO Guest Speakers
---
Take It All In and the Badge Business
"Take it all in. Look beyond the moment, look beyond your present circumstance. Look at your life as the incredible gift it is, and look at yourself as the unique gift you are to the world." To start out the week the CEO class began reading out of Craig Lindvahl's book, "Things You Wish You Knew Yesterday and Other Stuff You'll Need to Know Tomorrow." CEO class is built on the life lessons in Craig's book. CEO students are encouraged to live by the lessons documented in his book.
After receiving the book, the class worked on finding local sponsors to be represented and advertised on their class name badges. Students began calling local businesses and researching online. 
---
Four Generations in the Workforce
Marc Voegele, CEO Board Chair, Express Employment Professionals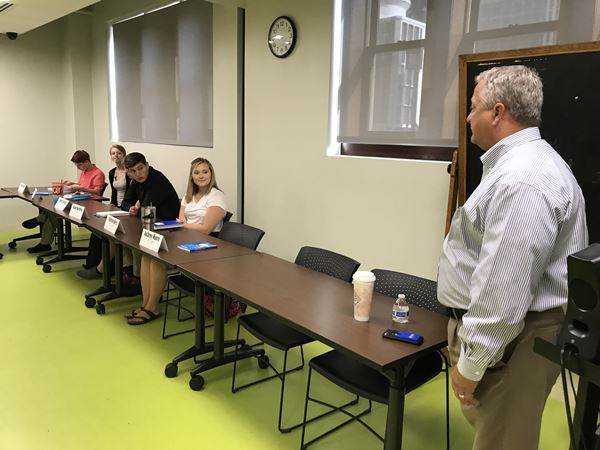 As one studies generation to generation, people begin to change, having different work ethics, core values, traditions, and thought practices. On Tuesday, our Granite City CEO Board Chair, Marc Voegele, President of Express Employment Professionals, gave an informative presentation on the differences between each generation and how they can be used to strengthen your business. The generations he presented wereTraditionalists, Baby Boomers, Gen Xers, and Millenials. He taught students how diversity in employees is a strength. He not only gave the students tips on how to appeal to each generation, he also talked to the class about time management and planning ahead.
Thank you, Marc, for coming to share Express Employment Professionals generations presentation with Granite City CEO. We appreciate your time, commitment and support of CEO and your leadership as our CEO Board Chair. 
---
Learning about the Corporate World in Santa Claus, Indiana
Holiday World and Splashin' Safari
The Granite City CEO class, along with 100 other CEO students, were privileged to take a trip to Santa Claus, Indiana, to visit Holiday World, a corporation, and learn about their company, its origins, and its values. Starting out as a park for small children by the name of Santa Claus Land, the park expanded in 1984 to include three themes:  Christmas, Halloween, and Fourth of July and changed their name to Holiday World. Later, it added and created the Thanksgiving section and a water park. Holiday World is owned by the Koch family and is managed by the fourth generation. Their mission is to be a world class amusement park. Holiday World, surprisingly, only has a 100 full time staff members, but employs and transports about 2,200 seasonal employees. The staff of Holiday World stressed to the students there is a difference between service and hospitality. Hospitality is being passionate, personal, and lively. Holiday World also went over its five core values, which are:

Play By The Rules - Always comply with regulations and standards.
Respect The Individual - Treat customers and employees not as a statistic but as a person and treat them right.
Encourage Work/Life Balance - Don't overwork employees, let them have a life outside of work and make work enjoyable.
We Are A Team - Working at Holiday World isn't just working a job, it's joining a team of dedicated workers striving to be the best park and provide the best experience for its visitors.
We Have Fun - At Holiday World, everybody has a good time whether you're an employee or a visitor.
Thank you, Holiday World management and staff, for your time and presentation about your amazing park and facilities. 
---
Twisting Ice Cream for 40 Years
Felicia Urioste, Sole Proprietor Mr. Twist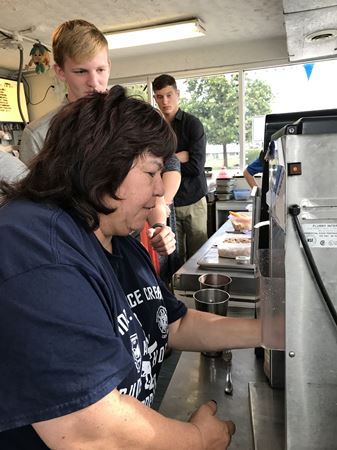 On Thursday, the CEO class took a business visit to Mr. Twist. Sole proprietor, Felicia Urioste was very caring and hospitable, as she spoke about how her business functions as a sole proprietorship, how to treat employees, and how she gives back to our community through events. She stressed the importance of being available 24/7 for your business, and treating your employees like a family. On August 27 she held her annual "Guns 'n Hoses" fundraiser. The police officers and the firefighters of Granite City competed selling Mr. Twist ice cream. The proceeds from the fundraiser were donated to two charities, The Good Samaritan House in Granite City and the BackStoppers. Felicia will be celebrating her fortieth anniversary on September 24, 2017, with a block party from noon to 5 pm. Everyone is welcome. After talking about health inspections, costs of equipment, insurance, and other bills, Felicia allowed the class to make their favorite ice cream or sherbet.
The CEO students thank you, Felicia, for sharing your story and allowing them to make their own ice cream creation.
---
Team Building and Collaboration in Civic Park
Getting to Know One Another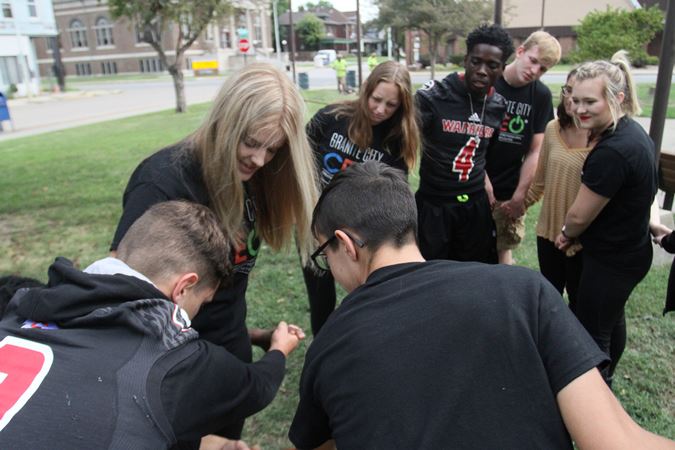 To wrap up the third week of class students read another chapter of "Things You Wish You Knew Yesterday and Other Stuff You'll Need to Know Tomorrow." The chapter was titled, "Nobody Cares About The Storm." The title means that a reasonable effort isn't the same as completing the task given and why something isn't done on time or done well. One still has to bring in the ship.
CEO students went outside to Civic Park and were tested on their teambuilding skills, and ingenuity. They stood in a circle linking hands as a human knot only to find out they must untangle each other. That among other games helped the students get to know one another, think outside the box, communicate, work together and have fun. These skills are essential for an entreprenuer. 

---