Securing Badge Business Sponsors, Financials, Networking, and Etiquette
CEO Business Visits
---
Learning about an Entrepreneur and Securing Sponsors for Our Name Badges
After our Labor Day holiday, class time on Tuesday was spent going over the expectations of class work, journals, creating the "wow," and professionalism.  A story was read about a young entrepreneur who started a lemonade stand as a very small child and then started and ran other successful businesses throughout his teen years. The book was based on fourteen students, who despite all of their college duties and lives, ran and maintained their own business. They were doers and were committed to turning their passion and dream into a business. Some students in the book grew up in impoverished homes but they all had the drive to succeed and own a business. It just shows how commitment and perseverance can lead to success.
---
Basic Income Statement, Budget and Cash Flow for the Lemon Stop, Inc.
Jeff Smith, CFO icon Mechanical and Engineering LLC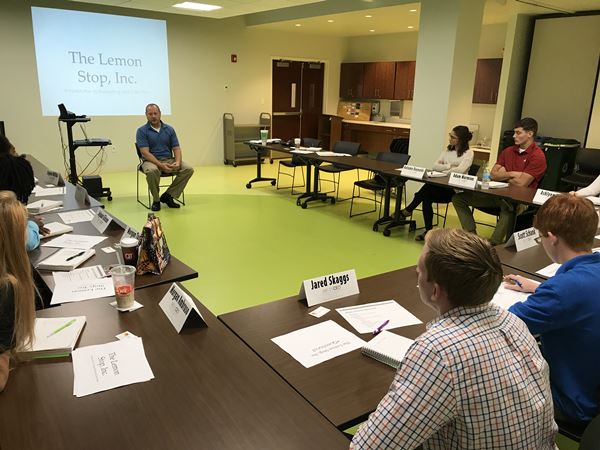 Jeff Smith, our CEO Board Treasurer and CFO of icon Mechanical and Engineering LLC, gave an insightful introduction to the income statement, budgeting and cash flow. Using a simple lemonade stand start up, Jeff showed the students how to create a budget based on key assumptions and a breakeven analysis. This helps decide how much startup money is needed to keep a business running until profit is higher than initial costs. He told the students to remember these key points:  Use realistic assumptions, predict losses so one is never "caught off guard," reconcile one's checking account with the bank monthly, and don't be afraid to negotiate the fine print in any contract.
The Granite City CEO class would like to thank you, Jeff Smith, for being on our CEO board and for your informative and interesting presentation. We would also like to thank icon Mechanical and Engineering LLC for being an invesotr and we can't wait for out visit and tour in two weeks. 
---
Walmart and the MC40 Technology
Walmart Visit with Assistant Manager Jennifer Sarette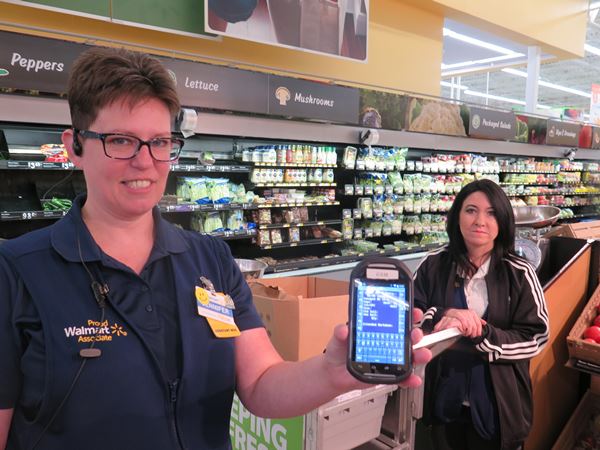 On Thursday, CEO students met at our Granite City Walmart, ready to take a tour "behind the scenes," with  Assistant Manager, Jennifer Sarette. As a customer at Walmart one never thinks about how much effort it takes to keep the 1,761st built store in running condition. Their hand held MC40 devices, keep track of all their inventory, when it is sold, the quantity remaining and the location of all items.
Walmart offers many services including their "Pick Up Today," which allows one to order items online and have them delivered to the store, and Layaway, which lets one make multiple small payments on an item instead of one large purchase.
Walmart employees stressed customer service and giving back to our community. Their focus is "Giving people access to a better life, one community at a time." Only the freshest fruits and vegetables are available to customers with the produce workers pulling items that are not fresh and donating them and other items to our local food pantry in Granite City, the Community Care Center. Aside from donations to the Red Cross and Salvation Army, the Walmart Foundation also pledged 1 million dollars in donations to organizations helping Hurricane Harvey, and is planning the same for Hurricane Irma.
Thank you, Jennifer Sarette, and Walmart management and staff, for putting into perspective for the CEO class the amount of effort and teamwork that goes into running store number 1,761.
---
1st MidAmerica Credit Union Business & Networking Etiquette
Alicia Lignoul, 1st MidAmerica Credit Union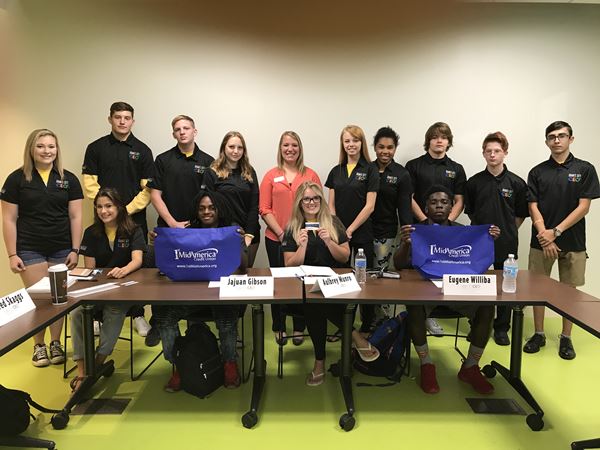 To end our CEO week, Alicia Lignoul, Community Relations Coordinator at 1st MidAmerica Credit Union, came to discuss social networking and the importance of using it every day. She covered many topics like What is networking? Business etiquette, personal branding, and how to make a networking plan. Networking is creating a group of acquaintances and associates and keeping it active through regular communication for mutual benefit.
Not only did Alicia teach students what networking was, she showed them how to socialize, make small talk, and be a person that people love to work with and talk to. She says that networking is based on the question: "How can I help?" not "What can I get?" At the end of the class the students talked with one another and asked questions to practice their networking skills.
On behalf of the CEO class, thank you, Alicia Lignoul, and 1st MidAmerica Credit Union, for showing the students how to communicate properly in a business environment, for being an investor in Granite City CEO and providing CEO students with class polos. We appreciate your support and commitment. 
---
---
Student Journal Highlights for this week
On September 4th we had no school due to Labor Day. For me it was laboring day because I worked most of the day. I got to hear some of the Granite City Marching Band play and I was very proud to be a Warrior at that moment. On September 5th we started class doing a pre class survey asking us about our C.E.O. experience so far. After taking the survey we talked in class about how we are going to start using a rubric to grade class and journal participation. After reading and exploring the rubric Mrs. Greenwald read to us out of a book called Student Entrepreneurs. She talked about how a group of kids started a lemonade stand making about 10 dollars a day and splitting it between each other, to eventually make over $100,000. They did this by doing a website hosting service that started in his house. This story just shows that you are never too young to be an entrepreneur. Jeff Smith CFO of icon Mechanical came to speak to us once again bringing more business knowledge from the money side of things. He talked to us about budgeting , basic income statements. Part of the the basic income statements are revenues, expenses, such as variable and fixed costs. The big topic that he hit on for me was the topic of reconciling your checkbook. It is important to reconcile your checkbook because if your bank makes an error you can catch it by keeping an accurate ledger. On September 7th our C.E.O.class did a business visit to our first big business,Walmart. On arrival I was shocked to see so many people at Walmart at the early hour of 8:00 am. After walking into Walmart we met our tour guide and assistant manager, Jennifer Sarette. We started the visit at the front door where we learned that the greeters play a much bigger role then just saying hi to people when they walk into walmart. I learned that they are also the last line of defence in product theft situations. In a business it is important that you don't let people get away with stolen product, because they could steal you out of business. After meeting the greeters we went to the deli, bakery, and produce section where we learned about how they take inventory of such a big store and how often they do it. I learned how modern technology allows Walmart to take inventory once a year in the goods side, and once every 2 months on the food side. I also learned that a lot of food on shelves near the deli is made in store in the deli itself, and I also learned they donate as much food as possible to the Community Care Center. After we went through the deli and their storage area, we learned the rules and regulations of offloading cold items such as milk. After exploring their huge storage area we went back to the main store where we were shown the new storage technique of top stock. Top stock is a new way to store items that are high quanity sellers like cereal. Top stock allows workers to spend more time managing their department instead of searching through storage to find items. The last major talking point was on a part of the store called high shrink areas, that's an area where profit is not always made. High shrink areas are areas such as electronics and jewelry departments. These departments are high risk for theft because of their value by not only customers but employees as well. This shows that you can't always trust even the best employees.

Jacob Roderick
Sunday, September 10, 2017Learn More About Jacob
---