Learning about Holt Shoe Shop and Class Time for Our Badge Business
CEO Business Visits
---
Purchasing an Existing Business, Holt Shoe Shop
Brian and Laura Smith, Owners, Holt Shoe Shop
Visiting Holt Shoe Shop was the highlight of the week with students gaining knowledge on the history of the business and background of the current owners, Brian and Laura Smith. Both Brian and Laura are native Granite City citizens and they purchased Holt Shoe Shop on December 1, 2014. Brian discussed and detailed some of the options and challenges they faced in financing the purchase of the business. As a small business owner, daily decisions affect cash flow and cash flow is king. Brian talked to students about fixed and variable costs, inventory costs, selection, decisions and more. 
Thank you, Brian and Laura Smith, owners of Holt Shoe Shop, for sharing the challenges of running a small business and some of the questions one must ask before making business decisions.
---
Class Days in CEO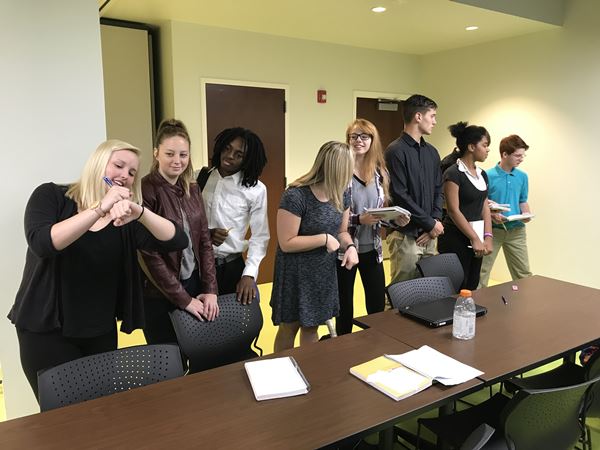 Monday in our CEO class was a morning of reflection. At the beginning of the period, students reviewed their previous week's journal and talked about what they could do to improve. Mrs. Greenwald went over grades and how points for classwork and journals are evaluated, and what was expected throughout the year. The students worked on designing their class badges and contacting sponsors for the rest of the class period.
Students of the Granite City CEO program received a desktop monthly calendar from 1st MidAmerica Credit Union to track their progress throughout the year. After marking down the majority of the school events and important CEO dates, Mrs. Greenwald began her story about her high school and college life. The class enjoyed hearing about how their teacher balanced her teenage years between school, friends, and extracurricular activities.
On Friday, our CEO facilitator, Mrs. Greenwald, finished her life story at the beginning of class, having children, working, and dealing with the hardships of life. She said "life is going to throw you a lot of curveballs" and it's how you deal with those that matter. After discussion of next week's business visits, students begin to write thank you cards to all of our guest speakers and business we have visited.

---
Student Journal Highlights for this week
This week of CEO was very informational. We had a lot of class time that was very valuable. On Monday, we tried figuring out the google docs and google classroom to make turning in journals easier. We finally got it and everybody was able to do it and turn in their assignments as a whole class.

Wednesday we went to Holt Shoe Shop on Madison Avenue. I knew it would be a great day when we walked in and the owner, Mr. Brian Smith, had donuts and juice/milk for us. We learned that Mr. Brian Smith is also a pastor at Second Baptist Church and he's been pastoring for 17 years, starting off as an assistant pastor/minister. He and his wife bought the shoe shop from Mr. and Mrs. Holt. The business was already established; it had been around for 50 years and Mr. Holt was known as "Grandpa Holt." Mr. Smith's wife, Laura Smith, was the first to work in the business; she was hired as a manager of the store to help the aging Mr. and Mrs. Holt. 

Mr. Smith started off with writing a business plan. He knew as the generations went by he would have to keep making adjustments in the store that would suit the different shoe styles people like. He also had to learn how to sew and repair shoes because they are also a shoe repair place so everything in the business he learned from the previous owners. Holts are better known for their wide variety of industrial boot selections. They don't carry many modern day shoes but for the older generations they have a good selection. He shared with us a detailed informational packet and it was very informative and neat to learn about a store that not many people in Granite City even know about.

Thursday we met at the high school for our 2018 senior panoramic picture after our senior meeting to talk about college and the NCAA eligibility. We went outside and lined up inside of the number eighteen, which is our graduating year. The picture turned out really good. Next, we lined up on this bleacher type stadium and took a panoramic picture of our entire class.  It was so hot that it felt like it took forever but both pictures turned out to be great and looked awesome.

Lastly, Friday we met at the library and Mrs. Greenwald told us the rest of her life story and history and how she got started in the whole business and teaching industry. She faced some tough trials, the hardest one being her son getting hurt at day care with a fractured skull. After that she quit work, because she never trusted anybody else to take care of her son; he was only 7 months old.  That changed her life completely. She worked at a corporation that was a great establishment and that she liked it but had to quit and turn into a full time mother. Many years later she was a student teacher at Edwardsville High School and eventually turned into a full time teacher at Granite City High School, where she now teaches business class including CEO. Mrs. Greenwald was able to overcome the adversity, build a family and keep pressing on. This week of CEO was really more details with our badege business but very informational. Next week we are very busy with business visits all week and I can't wait because I know it will be a very exciting week and adventurous.

Eugene Williba
Sunday, September 17, 2017Learn More About Eugene
The fifth week of the Granite City CEO program indulged us in the opportunities to focus on our badge ordering process, one business visit, and some amazing background on Mrs. Karen Greenwald.

Monday morning was another late start morning, which let us prepare for the upcoming week and start on collecting from our badge sponsors. I went to Kool Beanz to speak with Victoria Arguelles. She informed me of Kool Beanz new happy hour, as well as homework Mondays, which allows students to come in to study and enjoy some delicious breakfast and coffee with a valid school I.D. between 6 a.m and 9 a.m.

Tuesday was interesting to me because I learned about a small business that I had never had knowledge of beforehand. The 2018 CEO class met early with owner Brian Smith at Holt's Shoe Shop. He provided donuts and refreshments and talked to us about buying into established businesses. He gave us a detailed handout and told us the history of Holt Shoe Shop and his financing to purchase the business from Mr. Holt. He talked about expenses, inventory and purchase decisions and their suppliers such as RedWing and Reebok.

Wednesday, we locked in our final sponsors for our badges and collected the digital logos with the help of Ashlynn Merz, who decided to be in control of the ordering process. When life gives you extra time, read Mrs. Greenwald's "Red Book"! This was by far the most interesting day and we had so many good laughs.

Thursday we met in Mrs. Greenwald's classroom due to our senior panoramic picture meeting. I learned that life is flying by way too quick and I am happy that I have so many amazing people willing to help me and guide me along the way.

Friday we were blessed with calendars from 1st MidAmerica Credit Union, which we proceeded to fill in almost all of our upcoming business ventures, mentor meetings, days off of school, and our host site transitions. After school, I went to the Chamber of Commerce to pick up ballots for the Shine The Light award, as we are a group that you can vote for.

So stay tuned to this upcoming busy week and vote for the Granite City CEO class at the Southwestern Madison County Chamber of Commerce!

Morgan Tucker
Sunday, September 17, 2017Learn More About Morgan
---