Badge Business, Brainstorming, Class Leaders and The Secret To Making Money
CEO Business Visits
---
The Secret to Making Money and Financial Freedom
Kevin Nicol, CEO and President, Nicol Financial Services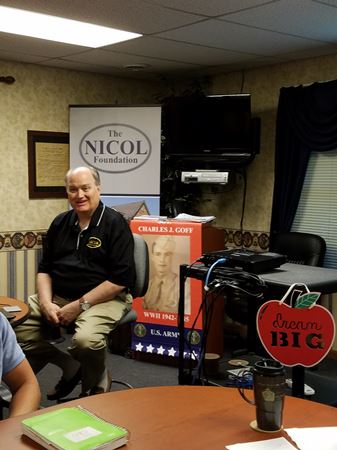 Students of Granite City CEO were welcomed by Kevin Nicol at Nicol Financial Services to participate in his, "Fundamentals for Financial Freedom Workshop." The class discussed their life ambitions, how to reach those goals, and necessities for starting their businesses. Many students knew that they wanted to be successful, and have enough financial freedom to do what they wish, but they didn't know where to start. Kevin gave them that initiative.
That initiative was in the form of "the secret to making money,'" which Mr. Nicol talked about at CEO Empowerment Day. The secret to making money is to work, work, and work. No matter where you're in life, poor or rich, you can be in a better position than you are now by working.
He taught the students many important ideas, including the "priorities of building a business" and the "start up necessities."
Priorities of building a business:
Develop a unique product
Develop a marketing plan
Develop an outlet for your product
Diversify
Repeat steps 3 and 4
Business start up necessities:
Capital
Education (know the market you are entering)
Loss of security (Running your own business is a 24/7 job)
Unique product
Distribution system
Commitment
Thank you, Mr. Kevin Nicol, for allowing the class to learn from your success and for sharing your financial freedom information for the betterment of CEO. The 2018 Class of CEO would like to thank Nicol Financial Services for investing in our CEO program.
written by Brian Bauman
---
CEO Class Days
Brainstorming, Pitching and Electing Class Officers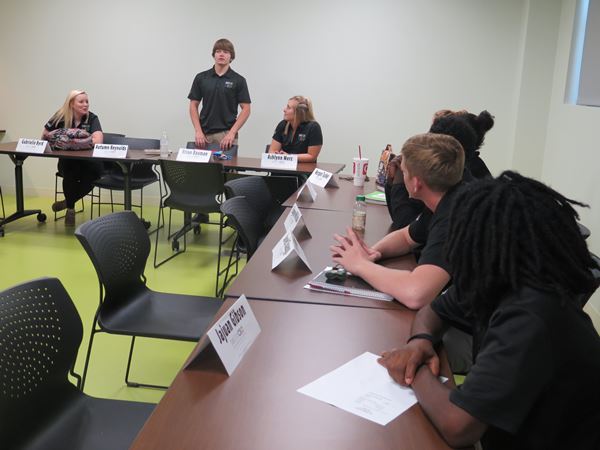 On Monday the class discussed the upcoming schedule for CEO and some students met individually with our facilitator to talk about their unique product or service. The badge business was completed after Ashlynn Merz put final touches on ordering the name badges. She gave each student a report of the badge business revenue and expenses and the balance of the working capital.  
As the CEO students got to know each other, it was time for them to elect officers to coordinate their efforts and the class business this year. Each student that wanted to campaign for a position took turns pitching why they deserve the title and how they are a better candidate than other students. As the candidates left the room, the rest of the class voted, coming to a final decision. The Chief Executive Officer of Granite City CEO is Brian Bauman, advised by the Chief Financial Officer Ashlynn Merz, and the Chief Operating Officer Morgan Tucker. These three students will be working with the class to promote new ideas and improve upon the program's traditions and standards.
CEO students spent Thursday morning brainstorming ideas for the class to raise money for their program. It was an hour of serious debate, because there were so many ideas coming from each student. After creating a list of possible events they went through the ideas one by one, and threw out some based on their potential profitability. At the end of the class, students had events to explore and research over the weekend to bring "to the table" next week.
The CEO class has been hosted by our Six Mile Regional Library on Delmar this first quarter. This will be our last week at this location. We appreciate Executive Director Tina Hubert and her staff for their hospitality. They will be hosting all of our CEO mentor mornings, which begin Friday, Ocotber 27. 
written by Brian Bauman
---
Student Journal Highlights for this week
This week of CEO has probably been my favorite week so far. We had one visit, which was Nicol Financial Services on Wednesday. We choose a CEO, CFO, and COO for our class business. After choosing officials, we, as a class, brainstormed  how to raise money and promote CEO throughout our community. It was a week of progress, and instead of learning the art of business we learned about ourselves and how we should work together and communicate.

Nicol Financial Services is an interesting business because they have multiple branches that reach out to the community. They are always in public affairs trying to help people and better the city we live in. Every business in the community should take a lesson from Kevin Nicol and his team about how to give back to the community, citizens and respect the part consumers play in keeping your organization or firm alive. His motto is, "Family, God, and Country."

To have a thriving business, one must welcome your consumers on a more personal level. Don't just say hello and leave it at that. Ask them how their day is going, what their interests are, questions related to your business, and the interest they have in the product you are selling. In other words don't be afraid to break the ice. The more interaction you receive from an employee, the more likely you are to remember that business and continue to buy from there.

As a front desk employee at Granite City Club Fitness, I was subject to many different personalities and I had to learn to be friendly. Most people go to a public gym for the atmosphere and moral support. If you walk around in a bad mood and looking "cranky," than many people won't want to talk to you, and if there are multiple employees that are like that,  than a person may stop coming into the gym all together. First impressions mean everything, so no matter how bad of a day you are having, don't take it out on the people around you.

Mr. Nicol's presentation was insightful. He told us the secret to making money. It isn't a heavily guarded secret, in fact any single person can discover it, if they have their eyes and mind open. Look around you and notice the differences in people, the successful and the unsuccessful. Notice how one is constantly doing something and the other is constantly doing nothing. Well the secret to making money is simply "WORK." Do not be lazy and sit around no matter how nice it sounds, because while you are doing that everyone else is getting better than you.

My weights coach in Hollister, Missouri, used to tell us that you must work harder than your competition. The thing is you don't know how hard they are working, if you're just sitting there, they could be bettering themselves. At that moment you just determined who would win the football game or the season. There's a reason my favorite shirt says on the back, "Champions are made in the off season." No one is there to watch you in pain, struggling they only see you at the competitions. When you're by yourself, it is easier to be weak and quit, but when you do that, there's always someone still working. Don't you want to be that person? Do you want to be the best at what you do? Those are the questions I ask myself sometimes.

Work is the most important thing in everyone's life and it is losing its meaning in today's society. Work teaches you character, how to finish something right even if that way isn't the easiest. That there are some things in life that you can live without, and that you're not a helpless person, if you want something instead of asking your parents for it, go get it yourself. It teaches you a lesson that no one can ever teach you. I like to think that my life has been pretty good. Why? Well, because I work to make it good.  If I want or need something bad enough, I will go and get it on my own.

Brian Bauman
Monday, October 9, 2017Learn More About Brian
---