Your Past Does Not Have to be Your Future
CEO Guest Speakers
---
Live Each Day with Courage
Roger Miller, Entrepreneur, Founder of Gateway Packaging Co.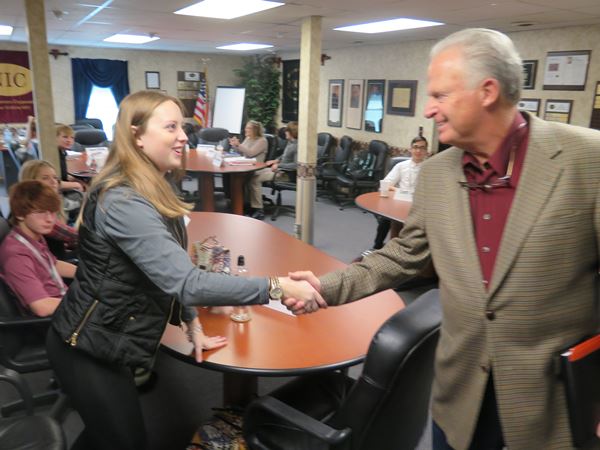 Roger Miller, Entrepreneur and founder of Gateway Packaging in Granite City, shared his story and told students he has always been interested in making money even as a teenager. He talked about his work ethic as a young adult and how he was always willing to learn any job. He worked for International Paper Company and learned every aspect of the business. At age 32 he founded Gateway Packaging and then sold the company in 2010. At that time 60% of the business was pet food packaging.
He stressed to students that your past does not have to be your future. Live each day with courage and take pride in your work and in your wins. Be the best employee you can be and always give 110%. Take control of your life and take full responsibility for everything you do, good or bad. Believe in yourself but expect adversity. 
CEO students thank you, Roger, for sharing your story and investing in us.  
We would like to thank Roger Miller for being a Granite City CEO investor
---
Connecting with CEO Alumni
Class of 2015, 2016, 2017 Alumni
CEO students were excited to meet and connect with Granite City CEO alumni on Tuesday at Kool Beanz. Kool Beanz has been one of our business visits each year and students enjoy the atmosphere, coffee and food. Current CEO students talked to alumni about CEO and specifically about our upcoming class business event. Alumni shared their thoughts and advice and were happy to meet the current students. 
The alumni present were:
Class of 2015  Jeremiah Leibold
Class of 2016  Gregory Nienhaus
                          Jared Wylde 
Class of 2017  Fatima Bucio
                         Kaitlyn Foltz
                         Chris Reeves
                         Joshua Royce
                         Jordan Stermer
Thank you CEO alumni for sharing your morning with us. We wish you continued success and hope you always stay connected with each other and CEO. 
---
Student Journal Highlights for this week
This week was very short, but it was fun and we learned a lot. On Monday we were pleased to have Roger Miller come to our class to speak to us. Roger told us that he became successful when he started working for International Paper Company. He said he always did what they needed him to do and he always went above and beyond with everything he did. He eventually worked his way up in the company. He started his own business and he was very successful. Roger's story was very inspiring because he was not a perfect student in school, in fact, his teacher once told him when he was a junior in high school that he should not go to college because he would be wasting his parent's money. Roger did not let that stop him, he proved his teacher wrong by going to night school which was paid by International Paper Company. Roger became very successful and he has made a lot of money in his lifetime. Roger did not start out as a wealthy kid, he lived in Granite City and he was actually poor. He did not want to live that way his whole life, even though he said it was not a bad thing. He inspires me to work hard with everything I do because in the long run, it will definitely pay off. He also gave us good advice that I will carry with me forever. I really liked Roger and I hope to see him again since we only had about an hour with him.

On Tuesday, we met at Kool Beanz with some alumni CEO students. We talked with them about our class business and all the things about CEO. I asked a lot of questions about the class business and I shared our ideas with them and got their feedback. It was very pleasing to hear what they had to say because it made me think differently about what we were thinking about doing. I also got new ideas from them and advice on how to handle the students who do not try as hard in the class. I liked hearing their experiences and how they handled them because our class is dealing with a lot of the same issues. This week was very short, but overall, it was very fun. I think we should meet with the alumni students more often because it is easy to connect with them and they have very good ideas.

Ashlynn Merz
Wednesday, November 22, 2017Learn More About Ashlynn
On Monday Roger Miller joined us at our host business, Nicol Financial Services, to talk to us about how hard work and character can get you far. Roger talked about how his parents were working class, blue collar workers that never thought about business. He said that growing up with little taught him to never take anything for granted in the workplace. His life changed when he was around 19 and got a job at International Paper Company, the largest paper packaging plant. When he was there he learned everything from creating the boxes to being a salesman and everything in between. That job taught him to never say "NO" in a work environment, and to always be honest when you make a mistake. He witnessed co-workers get fired for causing an accident and trying to cover it up, and he realized that honesty created trust with his managers, that led to other job opportunities. Roger created his own packaging business because he learned every part of the paper packaging business. Rogers new company created packaging that ranged from dog food bags the the plastic foil that covers your store bought yogurt. Roger eventually sold that company for a pretty penny and became instrumental in bringing C.E.O. to Granite City. Roger showed me that with the work ethic and drive I have, the only thing that could stop me is myself.

On Tuesday we met at Kool Beanz to talk with C.E.O. alumni about our class business. The person that had the most impact with me was Jared Wylde, a C.E.O. student from the class two years ago. Jared made a great first impression on me 2 years ago oddly enough at the Taste of Granite City. Jared greeted me and asked if I needed help with anything, and was a great person all around. Two years ago I attended that C.E.O. event and now today I'm learning what happened behind the scenes of that event from Jared. Jared was very eager to help us and gave us great advice about what to expect when approaching businesses to attend the event.

I am thankful for all the normal things family, hockey, and so much more but, I am very thankful for C.E.O. and the opportunities it has given me. So thank you to the C.E.O. Board, the sponsors of C.E.O., and everybody who makes it all work.

Jacob Roderick
Wednesday, November 22, 2017Learn More About Jacob
---