Getting to Know Our Event Sponsor and Our Board Members
---
CEO Board Members Speak and Share
Alicia Lignoul, Tina Besserman and James Amos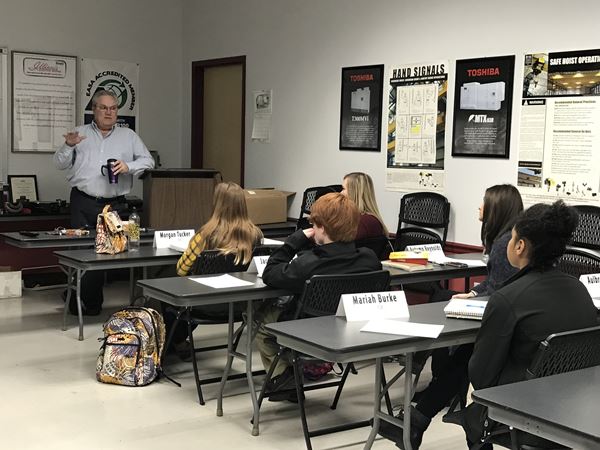 January 3rd, 2018, our first day of CEO second semester was a wake up call for most. The CEO class met at our new host business, Illinois Electric Works. President Dale Hamil welcomed CEO students, and then the wake up call began. Three of our CEO Board Members talked about what it meant to them to be an investor and what the students should realize, being invested in. Our board members talked to the class about being part of the class, and not just taking it for a grade. Our board members also told the class some important lessons about their lives.
Alicia Lignoul, First Mid-America Credit Union, had some touching advice on how to overcome adversity and to be resilient. The second speaker was Tina Besserman, Century 21 Bailey & Co. She also had great advice for the students about owning your life, and owning up to the mistakes that they may make. The last speaker James Amos talked about rough times in his life and how he overcame those times. The students listened to real life stories of hardships that the board members had and how  some of them were related to drugs and alcohol. Unlike the normal "drugs are bad" talk, this one was much more real and down to earth, and actually a bit scary. The class learned about what being a drug addict does to a family and how it tears it apart, from real life stories.
CEO deeply appreciates our board members for their time and sharing such personal and emotional events and what they learned about themselves.

written by Scott Schank and Adam Marmion
---
Our Event Sponsor Port Harbor Railroad Corp.
Carl Yount, VP Customer Solutions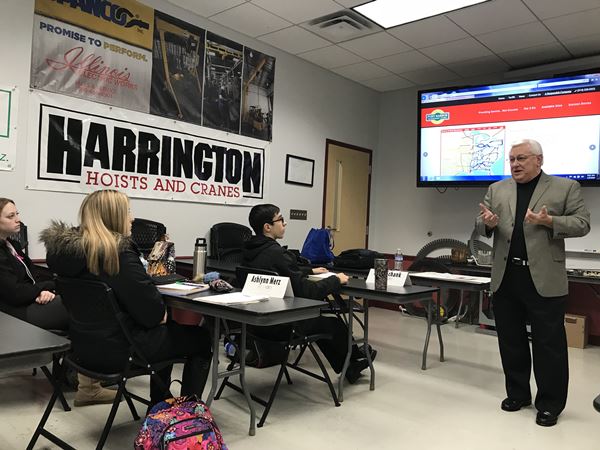 On Friday, the students had the honor of meeting with their event sponsor Port Harbor Railroad Corp. and co-owner Mr. Carl Yount. Carl is Vice-President of Customer Solutions and he shared his background, his life, the railroad industry, and what it means to be an entrepreneur, along with some advice to being an entrepreneur.
He focused on the following three basics for being an entrepreneur:
1. Know YOUR expectations - what YOU expect from the business.
2. Know YOUR CUSTOMERS' expectations - what YOUR CUSTOMER expects from the business.
3. Know your lessons and takeaways - What have YOU learned from the business.
Carl Yount also told the class about not taking customers for granted. He said not to rely on your #1 customer always being there. Carl also stressed the importance of communication with your customers, and how massive it is in the business world.
Mr. Carl Yount and Port Harbor Railroad Corp., we appreciate your time, your commitment and investment in CEO and for sponsoring our January 30 event, The Best of Our Granite City Area. You are the best! Thank you. 
written by Scott Schank
---
Student Journal Highlights for this week
This week was super short due to the winter break and we also had a snow day on Thursday, but that did not stop us from having guest speakers come to our class.

On Wednesday, we had three speakers come visit us, Alicia Lignoul, Tina Besserman, and James Amos. The purpose for their visit was to tell us our lives are too valuable for us to be doing drugs and drinking alcohol. They shared personal stories with us to show how serious it is and how it impacted their lives. It was very sad to hear their stories and it really made me hope I will never be put into their situation. I understand that drugs and alcohol are very dangerous and I will not use them because I want to be the best version of myself that I can be. I have big plans for the future and I do not have time to let drugs or alcohol get in my way to stop me. Drugs and alcohol ruin your life and it seriously impacted our speakers' lives from personal and family experience. They all changed their habits for the better and they are all successful people today. It was very eye opening to hear their stories because I would have never thought they had a family member who passed away from drug use. Wednesday in CEO, was very sad, but very real. I hope everyone in the class saw the point in them coming to tell us their stories. We are all in the CEO program because we all want to be successful one day.

On Thursday, we had a snow day. On Friday, Carl Yount came to our class to speak to us about his business, Port Harbor Railroad. He told us all about what he does and about his business. I was very shocked to hear how much it cost to make a railroad, about a million dollars per mile. That is crazy! Port Harbor Railroad is also an event sponsor for our event. Carl gave us his opinion on the event and what we could do to improve it. He was very nice and he also gave us little locomotive stress balls. This was a very good and informative week in CEO.

Ashlynn Merz
Sunday, January 7, 2018Learn More About Ashlynn
This week of CEO was just amazing. So many amazing stories were shared that made you think twice about complaining about your life. Wednesday Alicia Lignoul, Tina Besserman, and James Amos talked to us and shared with us some stories that you would never believe they ever went though.

Alicia Lignoul shared a story about a street department worker, who was ran over by a track, and was having a pity party for himself because he couldn't walk. The man went into ICU and he was the only one that still had legs and that made him pick his head up and realize things could've been worse. She also shared a story about her personal life and the tragedy of losing her brother only a year ago due to a drug overdose, that made me realize that I don't need to complain about the small things that are happening in my life cause I could be going through something so much worse.

Tina Besserman shared a similar story with her brother shooting himself over 20 years ago and he was also on drugs but going through that tragedy made her turn her life around.

James Amos just really gave us a lot of words of wisdom and let us know that if we put our mind to it then we can do it. I greatly appreciate them for taking out the time to come and share there stories.

Thursday school was canceled due to inclement weather.

Friday Carl Yount from Port Harbor Railroad Corp. came in and talked to us. I have to say his hair caught my attention before anything else; it was so perfectly combed, I couldn't believe it. Back on topic, Carl has been in the railroad industry for 41 years. Carl doesn't actually drive the locomotives, he does the customer service part. He gets all the complaints. That's usually the only thing that comes from customers but he says that he loves it. He was also in the Marine Corps. so thanks to him for his service. Carl also sponsored our event that is January 30 and I want to thank him for that.

So all in all CEO was very short this week but a lot of info came at us. I hope this week is even better.

Eugene Williba
Sunday, January 7, 2018Learn More About Eugene
---