Believe in Yourself
CEO Business Visits
---
CEO Students Speak at City Council
Granite City Council Committee Presentations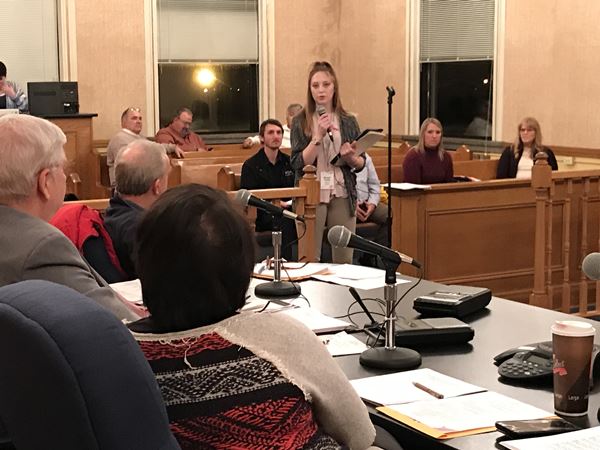 There was no school on Tuesday because of inclement weather but that didn't stop CEO students. Scott Schank, Eugene Williba, Morgan Tucker, and Brian Bauman met their facilitator Karen Greenwald at City Hall to present to our Honorable Mayor Hagnauer and members of the City Council about CEO and our January 30 event, The Best of Our Granite City Area.
Students talked about what CEO is and how it has made a difference in their lives. Mrs. Greenwald and CEO Board Chair Marc Voegele spoke as well. Students shook hands with the Mayor and members of the City Council and sold tickets for our event.
CEO Board Member and Economic Developer James Amos arranged for CEO students to present to the Council committee session before the actual City Council meeting.
Thank you James Amos for coordinating our CEO presentation with City Council.
written by Scott Schank
---
Event Committee Time
Class Day at Illinois Electric Works
Students worked in their committees and made a list of items that need to be accomplished before our January 30th event. Following up with many businesses and contacting new businesses was itemized.  The logisctics committee discussed the layout of the venue and will be providing the staff at the hall with a detailed diagram.
---
Be Proud of Your Accomplishments
CEO Board Chair Marc Voegele, Express Employment Professionals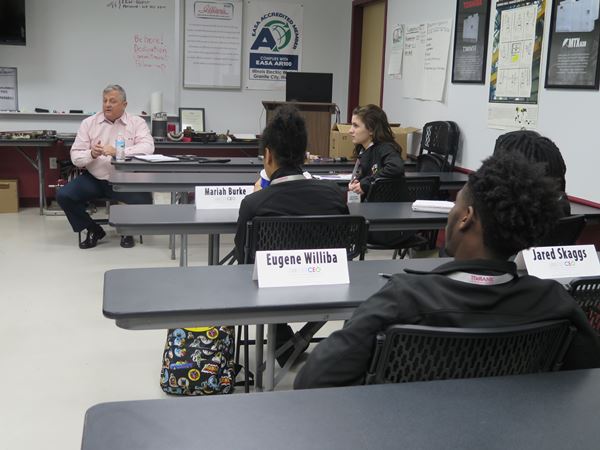 On Thursday, CEO Board Chair Marc Voegele, President of Express Employment Professionals, spoke to the CEO students about their upcoming January 30th event. He reiterated all that still needs to be done, in a different way than just a list. He spoke to the class and asked each student their plans after graduation and what they are proud of so far, and added that the event is another thing they can be proud of.
He shared his company's values, and talked about how the students could relate it to themselves, and instilled a bit of trust inside the class, despite the stress of how soon the event is and how much still needs to be done. He simplified the ticket sale stress by just saying sell two tickets a day.
After speaking Marc shook hands with everyone and asked each student to tell him that they will commit to do their part for our event, The Best of Our Granite City Area.
Thank you Marc Voegele for sharing your morning with CEO, speaking to the class, and helping with our event. Your commitment to our Granite City CEO program is greatly appreciated.

written by Scott Schank
---
Mentor Connect & Never Give Up
Dr. Mark Eavenson, Multi-Care Specialists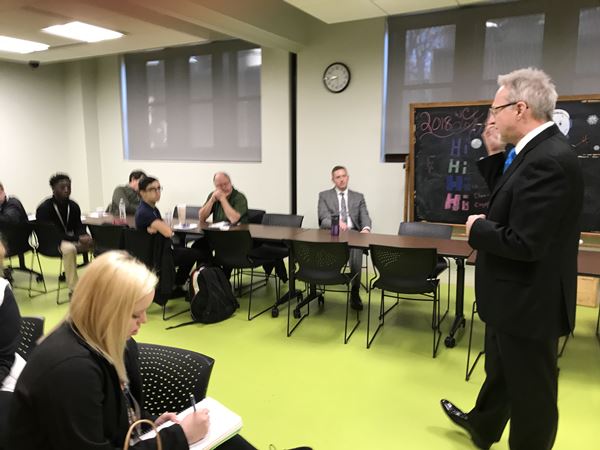 On Friday, the CEO students met at our Six Mile Regional Library with their mentors to talk about our event, The Best of Our Granite City Area. They also experienced what CEO is like on many days. They listened to and asked questions of our guest speaker, Dr. Mark Eavenson of MultiCare Specialists.
Dr. Eavenson told the class and their mentors about his background, and his path from the fire department, to nursing school, to EMT and his current position as a chiropractor. He shared there were people that tried to stop him and how he didn't let them. He called it the "wall theory,' the wall is not going to stop me. He said "one has to have the heart to do it and the drive to do it." Believe in yourself. 
He also talked about his job and the value of work ethic and maintaining a great attitude. Dr. Eavenson talked about his daughter and how he still makes time for her despite being busy, and how he doesn't let his money and fame distance him from her. He talked about how despite being successful and having enough money to retire, he doesn't because he loves his job, and money is just one of the benefits. He also talked about his passion for cars and how that's another benefit.
Thank you for speaking to our CEO class, Dr. Eavenson, and sharing your morning with us. Your speech was inspiring, and greatly appreciated. We appreciate CEO Board Member Kate Kite and our Six Mile Regional Library for hosting our mentor connect morning and our guest speaker. 
written by Scott Schank
---
Student Journal Highlights for this week
Monday and Tuesday we didn't have school. On Wednesday our class met at Illinois Electric Works and we went through some stuff for our class event coming up. I always say this, but days like these are my favorite days. Though I love guest speakers and meeting new people, we still have a lot to do for our class business and it helps so much when we have time in class to get some of the last minute things worked out.

On Thursday Marc Voegele came to  class and spoke with us more about our event as well, and some students even got interviewed, as well by Theo Tate, reporter for the Advantage News. Having guest speakers guide us to perfecting our event is always great. We learn new things on how to make our event more enjoyable for the people attending. It's always a pleasure having Marc Voegele speak to our class. He is always very helpful to our class and he gets stuff done. He is such a huge help to us and we are always glad to have him!

Friday we had mentor morning at the library. I always love mentor morning because my mentor is so sweet and very helpful. Tammy is always there to guide me whenever I need it. I couldn't have asked for a better mentor. After about 30 minutes of talking with our mentors, Dr. Eavenson came and spoke to us. He has been my favorite guest speaker so far. He is a very successful man and told us stories of when he was a child that really got me thinking. He talked about all these people who steered him wrong, but in the end it was him who was helping them out.

Dr. Eavenson talked about his drive and why he never misses work and how much he loves his job. Dr. Eavenson was very nice and I enjoyed hearing him speak with us about his life. It was such a pleasure having him tell us all his stories. He also told us that if we ever get stressed, chances are the stress that is happening, is being caused by our own choices. This was big to me because I tend to stress out more than the average person, and I realized that I was probably causing my own stress. Dr. Eavenson was an amazing speaker and I am very lucky to have had the opporutniy to hear his life stories. This was a very short but very helpful week!

Gabrielle Byrd
Sunday, January 21, 2018Learn More About Gabrielle
This was a really good week of CEO and school in general, not just because it was a really short week, but because I did some fun and inspiring things. Wednesday was actually our first day back to school because of Martin Luther King Day on Monday, and we had a snow day on Tuesday.

Despite the snow day on Tuesday, I still did CEO stuff outside of school. I went to City Hall with Brian, Eugene and Morgan to speak to the Mayor and his council. I think it was an awesome experience getting to speak at city hall. I could never imagine myself doing something like that before CEO. Before CEO, I had never even been inside city hall.

I think the title of CEO of the CEO class is starting to pay off big time and I'm really glad I took it, because before I was the CEO I wasn't part of as much with the class. I really loved it and would always do extra, but now that I'm the CEO I'm speaking to the Mayor, and I'm pretty much clued in on everything, so that's nice. It is an advantage because I get to talk to people in high places like the Mayor and Rosemarie Brown at the Chamber of Commerce.

Then on our first day back from our surprise break, Wednesday, we all got into committees and did some work. We talked about what businesses we've visited and our tickets sold. I like it a lot better when we split into committees, but come back together to talk as a class, I think I'm going to try to incorporate that somehow, because when we all work together, we really get stuff done.

On Thursday, Marc Voegele came in to talk to us. It was nice to actually talk with him, because I had shook his hand before and I knew he was on the board and an investor and Brian's mentor, but I never really spoke with him or heard from him. He came to talk with us about our event, and helped us realize what all we had done and still had to do in a way that we all understood and wasn't arguing with each other. I think it was honestly, a life saver, for him to come and talk, because everyone was a little worried about the event because there's still a lot to do, but we didn't have enough understanding in each other so we were worried. We didn't understand the specifics and reasoning we had about each task, so Marc coming in and talking really helped. Also, he handed out a really cool set of values he has at his work, where his employees made it themselves together. I think that it's important to have everyone in agreement about their values, and Marc really showed it. Also, they inspired me, and after class, Brian and I went to hit businesses like normal. Marc really set my mood for the day, and I was just inspired all around. I really wish he would come and talk more, because I think he was one of my favorite guests we've had so far.

On Friday, Dr. Mark Eavenson came to speak to us, and our mentors for our meeting at the library. I feel really bad that so many students were missing, because he gave a really down to earth, awesome speech. He didn't just talk about his job, or his life, but also some lessons he's learned along the way. He, for sure, has to be my favorite speaker we have had so far. He talked about how going through school, he didn't have great grades because he had to work to help pay bills at his house. He also talked about the value of work ethic and having a good attitude. Not to toot my own horn or anything, but this really spoke to me well, because I'm in a relatable situation. I don't really have money, but I have a good work ethic and I try to keep a good attitude.

Dr. Eavenson talked about how people who talk to you can affect your life, and that sometimes people don't realize that words can hurt. He told stories of how his teacher told him he wasn't going to college, and how his high school year the football coach told him he was too small, and how it upset him, but he didn't let them stop him. He also talked about how later in his life he was the one who talked to them in situations, and he was the one with the authority to make the decision for them. Instead of holding a grudge or saying something that would upset them, he stayed humble and forgave them.

Dr. Eavenson told us about his love for people, and how he always worked. Instead of complaining about his work, he was proud that he hadn't taken a day off. He showed how much he loved his job truthfully and honestly and really inspired me. He also talked about his daughter and how he still made time for her, and didn't let the money and success he had in his life be a distancer from her. He talked about the lessons he told his own daughter. One example being "the wall." The way he explained the wall is that sometimes in life there's going to be something that's going to try to stop you, the wall, but you have to get past it. All in all, Dr. Mark Eavenson was by far my favorite speaker we've had so far, and I was really touched by him. He really has a contagious, great attitude.

This week, in a whole, really was an eye opener for me, and my words can't do justice for some of the amazing speakers we had this week. But this week showed me more than anything how much of a blessing CEO is on my life. Without CEO I never would have the opportunity to hear some of these amazing speeches, or give any of my own to city hall. CEO allowed me to listen to some amazing people and also speak and is teaching me how to become one of the amazing people we listen to. I pretty much like everyone else, hope my life is successful, but I also hope that I can impact kids the way CEO has impacted me. I just need to get better at talking without stuttering and having a borderline panic attack.

Scott Schank
Sunday, January 21, 2018Learn More About Scott
This week in CEO consisted of working on my days off. We did not have school Monday due to Martin Luther King day and no school tuesday due to weather.  It is now 65 degrees out while I am writing this paper.

Monday and Tuesday I went to as many businesses as possible asking them if they would like to be part of our event. The process is so intimidating and takes a lot of hard work, but hard work pays off, especially when they accept the invite to our event!

Wednesday we were back in class and Marc Voegle, Chair of our CEO board came to our class Thursday. Every time he visits us he helps tremendously. We talked over the event and figured out some numbers. Theo Tate, a reporter for the Advantage News, came and interviewed a few of us. I'm excited to read the article he will write.

Friday we met with our mentors. My mentor is Dr. Almeda Lahr-Well and she i s awesome. She truly cares about being a good mentor. The mentors also stayed with us and listened to Dr. Mark Eavenson talk. WOW he was so successful and is just such a great person. When I took notes listening to Dr. Eavenson, I filled up 3 pages! I wrote down his quotes. One thing he shared is "Every day you're in competition and if you are not taking pride in what you do, someone else is and they'll pass you up." I have not stopped thinking that since I left the library Friday.

Autumn Reynolds
Sunday, January 21, 2018Learn More About Autumn
---