Final To Do Lists and DeStressing with Yoga
CEO Business Visits
---
Preparing Lists and Taking Action
CEO Board Member Alicia Lignoul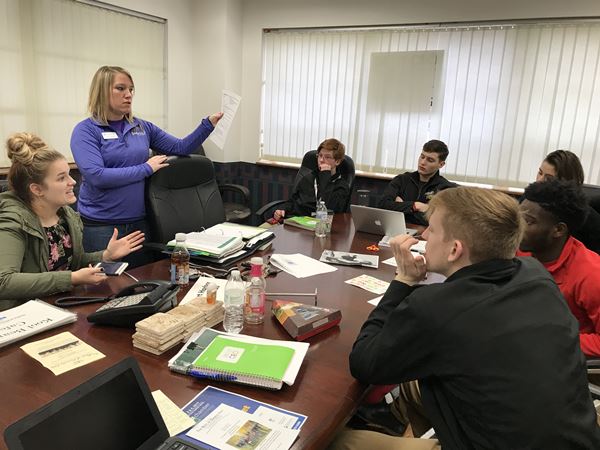 On Tuesday CEO Board Member Alicia Lignoul, Community Coordinator for 1st MidAmerica Credit Union, visited class and spoke to the students about working hard and staying focused. She answered questions and made suggestions, as well as, helped solve problems in the committees.
CEO Scott Schank made a list of the tasks needed to be completed before the event. Students made phone calls, gathered silent auction items, created a layout for the venue, and much more. They are becoming more confident that Tuesday night will be an impressive event for our community.
Thank you to Alicia Lignoul and all the businesses and individuals who helped the CEO Class of 2018 develop this event. Tickets are being sold on eventbrite.com if interested in attending or purchase tickets from a CEO student.
written by Adam Marmion and Brian Bauman
---
Yoga Business - Relaxing and Stretching
Boho Lotus with Owner Brandy Lusicic
On Friday the class visited Boho Lotus and learned about the yoga business from owner Brandy Lusicic. Brandy opened Boho Lotus in 2016 and she is in the process of obtaining more certifications to offer more classes. She offers classes to groups and has added bar workouts.
Brandy was very thoughtful and patient when answering questions. She led the class in yoga with some bar stretching. The CEO class enjoyed the relaxation and the morning at Boho Lotus. For many students this was their first time in a yoga class and it won't be their last. 
Brandy, CEO appreciates you spending your morning with CEO and leading students in yoga.
---