Your Life is Your Business
CEO Business Visits
CEO Guest Speakers
---
Be Honest with Yourself: Ask Why?
Tom Cholevik, TransAmerica Financial Advisor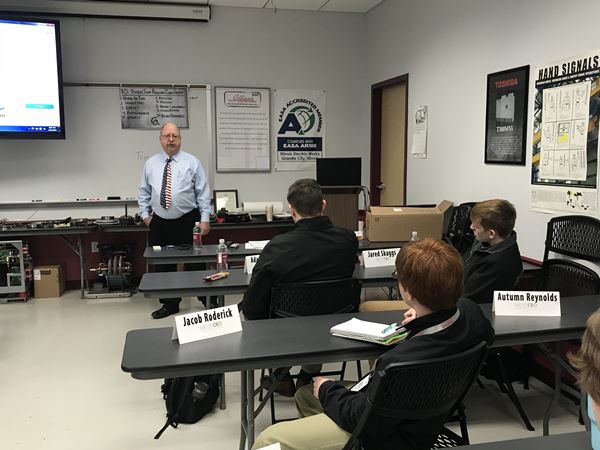 Tom Cholevik grew up in Granite City. His first job was picking corn at 10 years old; he rode around on a bike selling it out of his wagon. Growing up and finding various ways of making money, he never saw himself as an entrepreneur.
Mr. Cholevik, an Air Force veteran and a retired steel mill worker, is now a financial advisor with Transamerica. One of the lessons Tom shared with the class is "don't make excuses and take complete ownership of your life." Being responsible and owning up to everything will make you more successful in life as well as the business world.
When investing into your business, he also told students to acquire a residual income. As a business owner you want the security of a steady income, regardless of hours spent working.

To increase the efficiency of your daily life, create a list of all the tasks in your life by importance. Every day complete four of those and you will be on your way to new opportunities. Eliminate the unimportant factors and ask yourself, "Is what I'm doing right now making me money?"
Mr. Cholevik's other quotes were:
"We, as the human race, are AWESOME at making excuses."
"If your honest with yourself, your life will be better."
"Your life is your business."
Thank you, Mr. Cholevik for sharing your personal wisdom and criticism with the class. We appreciate your commitment to the CEO program and attending our recent networking event.
written by Brian Bauman and Adam Marmion
---
Busines Plan Preparation
Writing Business Plans for Start-ups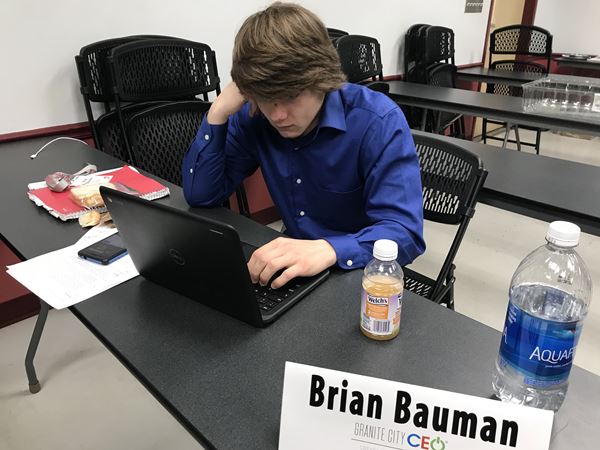 CEO students used a template to begin working on their business plan for their individual businesses. The students helped each other figure out ideas and logos for their start up businesses. CEO students Eugene Williba and Ashlynn Merz celebrated their 18th birthdays this week. 
---
Jerry's Cafeteria and Catering
Jon Roderick, Owner Jerry's Cafeteria & Catering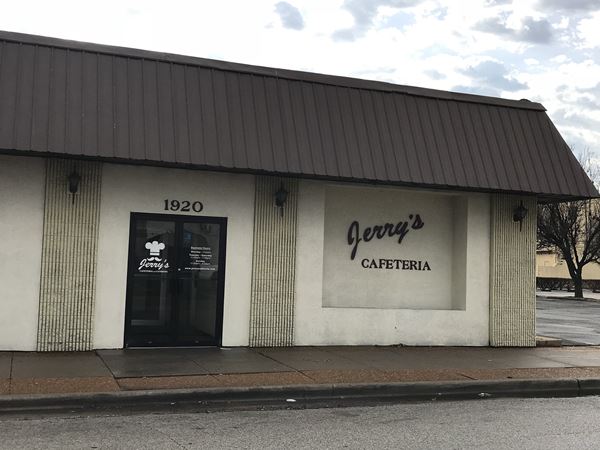 The current location of Jerry's Cafeteria & Catering has been in business since 1986 and is now owned by Jon Roderick. Jon recently purchased the family's business from his father, Jerry, who retired. Jon said he pretty much knew that this is what he wanted to do at a young age and out of all of his siblings, he was the most interested in owning the restaurant. 
In 1945 Jon's grandfather started Roderick's on Nameoki Road, operating as a tavern for the steel mill workers. As more and more steel workers spoke up, saying they were tired of bringing their lunches into the tavern, his grandfather began to sell food as well. In 1968, the restaurant began operating as cafeteria style.
CEO students learned that the quality of a product must be backed up by excellent customer service. Jon said that his family has always been loyal to their customers and they have always provided a "wholesome family cooked meal." Jon talked about the importance of social media and that it is their best means for advertising. 
The final words of Jon Roderick was, " If you say you're going to do something, do it. Never jeopardize a connection." Having good relationships with suppliers is essential to running a business. 
The CEO students thank you Jon Roderick and Jerry's Cafeteria for your participation in The Best of Our Granite City Area, and for your partnership in our CEO chili fundraiser at the Warrior football game in October. 
written by Brian Bauman and Adam Marmion
---
Student Journal Highlights for this week
We entered the week on Monday, February 12th, continuing our business plans and going over our schedule for this week. As I am well into my business plan, I learned that you can't finish everything by yourself...sometimes it is okay to seek help of your peers or elders, and we should be very grateful for them.

Tom Cholevik gave some very useful insights and takeaways for us Tuesday. Tom made sure that we know to market! If we don't have customers, we won't make money! Tom taught us about residual income and why it is important. A few more points made were that you can not accomplish everything in one day, work as a team, even as an individual, be honest and be in control, and in the words of Chuck Norris, "Some people say I fear nothing, so I found nothing and kicked it's butt."

On Wednesday, we used those valuable words and directed them into our class productivity as we all worked on business plans. I found the perfect logo for my business, and I can't wait to share! As well as Valentine's Day, it was Ashlynn's birthday, so Jacob was very sweet and brought in cupcakes for her, as well as, the class.

Thursday, Jacob's dad, Jon Roderick, the new owner of Jerry's Cafeteria, indulged us in a visit to his restaurant in downtown Granite City. We learned a lot of interesting facts about the history of Jerry's, and the Roderick family. Did you know before the opening of Jerry's Cafe in the downtown location, the Roderick family owned Tony's, which then became Roderick's in 1945? Jon also talked to us about marketing our businesses such as on Facebook. "Communication is very important, and firing people is hard" Jon says. Even so...you know where to go for some tasty hungarian goolash! Also, find Jerry's Cafe on Facebook!

Friday the 16th, CEO met from 8 to 8:30. I still chose to use my time wisely and worked on my business plan as Mrs. Greenwald went over the schedule to finish this month.

Side note: February is heart health awareness month, and I would like to take this time to thank the surgeons' at SSM Cardinal Glennan Hospital for doing the best work they could to keep me here! I am very appreciative of everyone in my life.

Morgan Tucker
Monday, February 19, 2018Learn More About Morgan
This week was a super busy week for me as I worked on my own business that we will have to present at the end of the year. The whole class took Monday the 12th to work on our businesses. At first I was kind of nervous because I really had no idea what I wanted to do or even how I was going to pull this off. Our businesses are something we have to do individually with no help from no one. It's definitely going to be a lot different and harder than our class business we did a few weeks ago. My business will be something for people who are in a rush and can't stop to eat. Although I would like to say what it is, I don't want to spoil the idea just yet! I'm super excited to see how my business turns out and cannot wait until we have to present them to our very own Shark Tank event. I watch Shark Tank all the time and absolutely love the show and now its like I'll be doing my own little show!

Tuesday the 13th Tom Cholevik came in to talk to us about his career and how he got to where he is now. Tom played in the first season of soccer here in Granite City in 1962, which is unbelievable. He then went on to serve in the Air Force and decided that really wasn't what he wanted to do with his life. Right out of the Air Force, Tom went back to work at the steel mill where he worked for 30 years and 8 hours there. Cholevik switched his career a few times and finally landed as a soccer coach where he worked ever since. He put in 43 years as a soccer coach and loved every single bit of it. Tom told us to always be a good listener no matter who is talking because you never know what you could learn.

As Tom spoke to us it made me realize that I also wasn't really sure of what I would like to do with my life either. I have thought so much about joining the Marines right after high school, but I'm just not quite sure if that's truly what I would like to do with my life. As a wrestler, I would still like to do that in my near future and I know that the Marines does offer wrestling but I really don't know.

Thursday the class went to Jerry's Cafeteria to learn about the restaurant business and how it works. Jon Roderick took over the restaurant his dad opened. Jon graduated in 1986 and immediately joined his dad in opening the first restaurant January 1st 1986. Today Jon spends all of his time at the restaurant making sure everything runs smoothly. He really enjoys it and loves doing it. Jon Roderick says "Do something you will enjoy and you won't have a problem doing it for the rest of your life." He is definitely correct about that!

Jared Skaggs
Monday, February 19, 2018Learn More About Jared
A business plan is a representation of your business values and success. As we sit down to write them all of the factors that you never thought of start to well up in your head, making you wonder am I ready for this? Is what I am writing something presentable to a potential investor? Unfortunately, it is your first impression, and if not done properly can be your last.

Being a student in high school starting my own business, I am expected to include all of the factors of my business in my business plan before even selling a product, which means mentally walking down each path of choice and seeing where it would take me. That is a hard thing to do when you have no idea what to expect in the business environment.

Tom Cholevik came to Illinois Electric Works to speak, and he really left an impression on me. He said the harder you work the harder it is for you to surrender. That makes perfect sense. For example, I have thought about dropping CEO so many times for different reasons. Whether it is because of the difference in work ethic, too much to do (terrible excuse), or not getting the grade that reflects my effort. None of that equals the amount of pride I have in saying I helped create something like The Best of the Granite City Area.

To increase the efficiency of your daily life make a list of the tasks you have to accomplish. Get four tasks done each day and you will be suprised by how much less you stress. 95% of a normal citizen's thoughts are the same as the previous day, only 5% is actually a new challenge. Meaning most of your energy and thought is wasted.

Thursday was a class visit to Jerry's cafeteria. Jon Roderick, the owner, gave a brief history of the restaurant and the importance of maintaining a good reputation. Many businesses with good food have gone out of business due to their terrible customer service or cleanliness. The success of a restaurant comes down to hard work, and having different opinions; have someone in your corner willing to tell you your idea is not the best way to go.

Brian Bauman
Monday, February 19, 2018Learn More About Brian
---